This past week I did a 5 day Nutritive Cleanse program. I figured I could do anything for 5 days.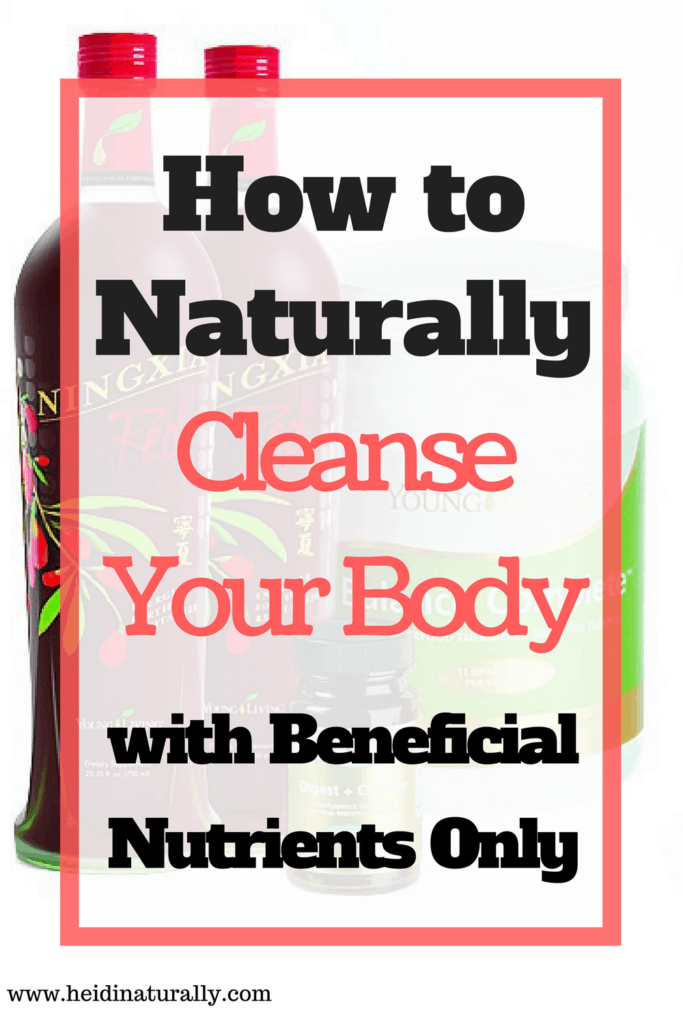 Here's what I did each day on the cleanse program I used:
Three times a day I took a Digest & Cleanse capsule 30-60 minutes before eating. When this supplement is out of stock I take a capsule of DiGize vitality essential oil instead. (Just fill an empty capsule with 5-10 drops of this essential oil). Then I drank 2-4 ounces of Ningxia Red (this is a powerful antioxidant drink made from wolfberries from the Ningxia province in China where people are known for their longevity). I also drank 1 serving of Balance Complete protein drink.
Three snacks a day -I often just had two snacks a day even though 3 were allowed. The morning snack was a piece of fruit such as an apple, pear, plum or orange. The afternoon snack was 1/2 c non-cruciferous vegetables and the evening snack was usually 1/2 c frozen blueberries. For the greatest effect, it is suggested that you not eat snacks, but I enjoyed them and didn't feel that it was terribly detrimental to eat them.
Water – I drank 2-3 quarts of water because water is so good for my body and helps flush out the toxins and makes me feel good.
What I learned during this cleanse:
I don't need as much food as I think I need. I felt very satisfied during the whole 5 days. My stomach didn't rumble and I didn't feel starved at all. This is unusual for me so I knew these products were filled with nutrients that my body needed. Since going off the cleanse I have noticed that I can talk myself out of a lot of foods that I would have just automatically put into my mouth before.
My cravings can be reset. When your body goes without most food for 5 days and it gets what it needs, it stops craving things that are not good for you. I have a much better attitude towards food now and can enjoy each bite of good food.
When my body is filled with nutrients, it is satisfied. I was amazed at how the products in this cleanse helped me feel full and not deprived. Even though I still had to cook meals for my family, I was able to do it without emotion or wanting to eat everything in the pan. I found that I could just cook and then enjoy my drink and shake with my family while they ate the meal I had prepared.
When my digestion rests, my body is able to reset and cravings are greatly reduced.
I always love hearing stories of people who use a program successfully, so I hope you have enjoyed hearing about my cleansing story. I ended up losing 3.6 pounds and 3 inches in the 5 days although there are no guaranteed results.
Next Steps for Cleansing
I'm going to keep up with avoiding sugar (except for honey and erythritol) and avoiding flour/gluten. My body is ready for this change now and I am excited to feel even better than I have been feeling.
The program I used was purchased through my wholesale account (choose MEMBER not customer) with Young Living Essential Oils. People who want to purchase the 5-Day Nutritive Cleanse can get their own wholesale account here (just follow the directions or contact me with any questions).
If it is out of stock for any reason because of Digest & Cleanse, just purchase these products with your wholesale account – Balance Complete protein mix, 2 bottles of Ningxia Red and DiGize vitality oil and fill empty capsules instead. If you get the starter kit with the oils and diffuser, you won't have to buy the DiGize vitality oil because it is included in there.
The directions for a wholesale account direct you to Young Living's starter kits. I recommend the Premium Starter Kit. Then you get a diffuser and all the most popular oils that can help you on your wellness journey. Then you can purchase the Nutritive Cleanse or any other Young Living product for a year at the wholesale cost.
You CAN become a Young Living member with just a $45 membership. Then you can purchase the products you need for the cleanse. But you don't get the 11 most popular oils and the diffuser. Either way works though. You can try other programs or nutrients, but you will likely not find anything out there that is of the same quality as this Young Living Nutritive Cleanse. Please contact me if you have any questions at all!