When first gathering essential oils information, it's best to start with the most popular oils first. You don't have to be an aromatherapist to know how to use oils. It only takes 10-20 varieties to build a good kit.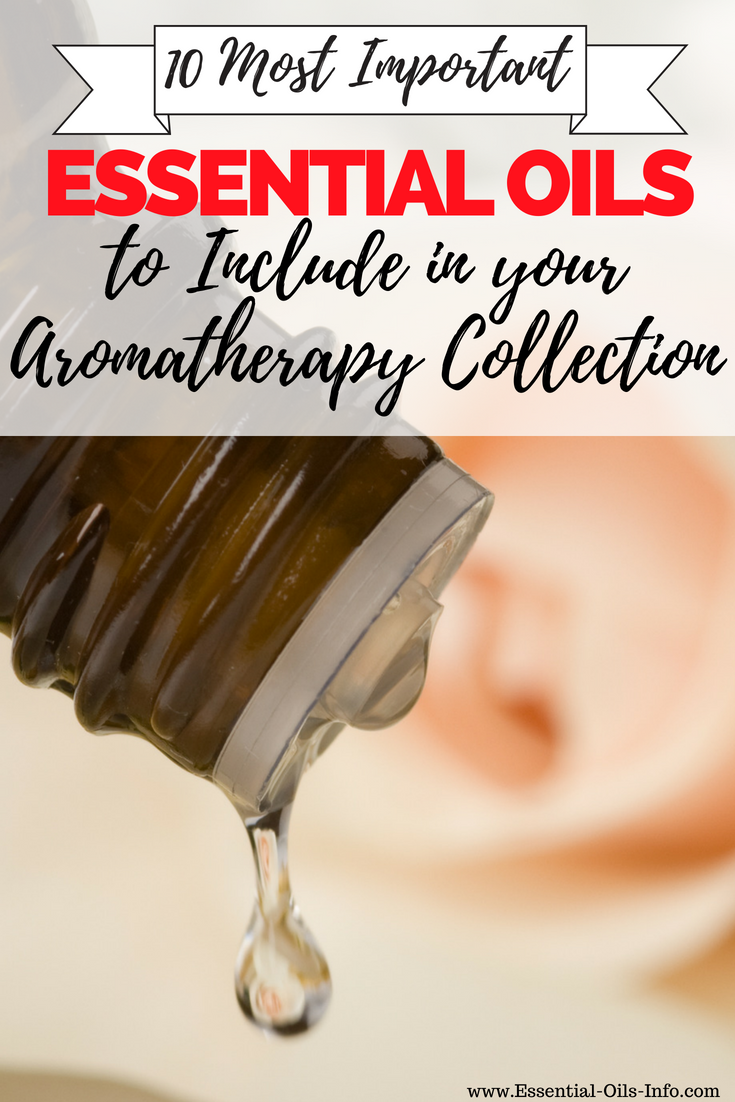 Oils to Start Your Aromatherapy Collection:
Lavender – Great for the skin. Soothing and calming. Helps with skin discomfort. Can help with minor sleeplessness and it encourages proper nasal function.
Peppermint – This wonderful oil supports the gastrointestinal system, normal digestion, and promotes healthy bowel function. It is energizing and can have cooling effects when overheated by sun or hormonal reasons. It supports healthy lung function and the digestive system. Peppermint also encourages proper nasal function, as lavender does, and can even help curb appetite. It is very supportive of the joints and muscles of the body.
Lemon – Lemon oil helps encourage concentration, supports the immune system and enhances the flavor of water. It can be emotionally uplifting too. It is great for cleansing the body and household surfaces. Lemon even promotes energy and mental clarity.
Frankincense – supports the immune and emotional body systems. It can also help enhance focus and attention. It is very oxygenating and is great for the skin. Supporting meditation and increasing spiritual awareness are also qualities of this oil. Those needing support of their nervous system and boosting their concentration will want to use this oil.
Copaiba – This oil supports wellness and enhances other oils when you combine them with copaiba. Mix with honey and warm water to create a beneficial tea.
The Best Essential Oil Blends
Thieves – a blend of lemon, rosemary, eucalyptus and clove.  We use this oil to support our immune system. It may support healthy teeth and gums and supports a healthy respiratory system too.
Purification – Cleanses and disinfects the air and neutralizes disagreeable odors. This blend includes the oils of citronella, lemongrass, lavandin, rosemary, melaleuca, and myrtle. Can be inhaled or applied to the skin (try diluted first).
DiGize – This is a must have blend for any house to support healthy digestion. Use it as a dietary supplement in water when traveling or add it to a gel capsule daily.
Panaway – "Reduces pain and inflammation, increases circulation, and accelerates healing. Relieves swelling and discomfort from arthritis, sprains, muscle spasms and cramps, bumps, and bruises." Oils in this blend include helichrysum, wintergreen, clove, and peppermint.
Stress Away – Diffuse this oil blend to encourage relaxation or massage onto shoulders and back of neck for a soothing aromatic experience. Who needs stress? Use this oil blend of copaiba, lime, cedarwood, vanilla, ocotea and lavender to support your mental and emotional health.
R.C. – Massage on chest or back for respiratory support. Diffuse for a comforting aroma or apply before a workout for an uplifting aromatic experience.
Essential Oils Information can Change Your Life!
Every system in our bodies can be supported by essential oils. When something comes up, we have oils on hand to support our bodies and improve our lives quickly. Essential oils can even help balance emotions!
We have been able to reduce the number of chemicals in our home too by cleaning with oils and diffusing them in place of candles, sprays and plug-ins.
I have been able to make many personal care products using essential oils reducing our toxic load even more. There are lots of recipes and essential oils information to collect if you want to make your own products.
How to Get the Best Oils for the Best Price:
I only use Young Living oils because they are the purest. They are the only company that owns their own farms and has control of the whole process from when the seed goes in the ground to when the bottle of oil gets sealed. I don't want any funky ingredients in things that my family will be applying or ingesting.
The best thing is that Young Living has put all the oils talked about above, along with a diffuser, into a kit that includes a wholesale membership. The kit also includes samples, sample bottles (to share with friends), and literature. The wholesale membership allows you to purchase any of their products at the wholesale cost too! (24% off)
Our team shares lots of recipes, essential oils information, and ideas and walks hand in hand with new members showing them exactly where to look to know how to use their oils most effectively. I love teaching about essential oils and how to use them.
To get more essential oils information and how I purchase them with my membership and discount,  go to my post about how we got started and use them every day or contact me and I'll send you my audio Introduction to Essential Oils class.