Many people take essential oils with them wherever they go whether it be across town or across the world. Here are some good travel tips when wanting to use essential oils for happy and memorable experience.

Travel Tips for Various Issues Associated with Traveling
Fear – If you or a family member get fearful when traveling, Valor essential oil blend can be very helpful. It can be applied to the feet, wrists, back of neck or anywhere that is convenient. This Young Living exclusive blend contains spruce oil which the Roman soldiers used before going into battle. It has a great scent and seems to work quickly. The oils in Valor include Black Spruce, Camphor wood, Geranium, Blue Tansy, and Frankincense Essential Oil.
Mental Clarity – Traveling can be confusing whether you are trying to navigate an airport or a freeway. Lemon oil applied to the temples every couple of hours can help you keep alert and find your way.
Motion – Ginger and peppermint applied to the belly and back of neck before traveling and every hour and a half while on the road and in the air can help you feel good while moving.
Staying awake – For long trips that require a sleepy person to stay awake, breathing in peppermint essential oil and applying it to the back of the neck usually give a good wakeup call to the body and help you stay awake.
Relax – It's easy to get stressed when traveling, but lavender and Stress Away blend are great oils to use. These help calm the nerves and help anxiety levels go down. Someone who is driving and needs to stay awake, might not want to use lavender as it might make them so relaxed that they will become sleepy. On the other hand, if the person is hyper, it can help bring them down to the level of the rest of the travelers.
Healthy Checklists for Free Download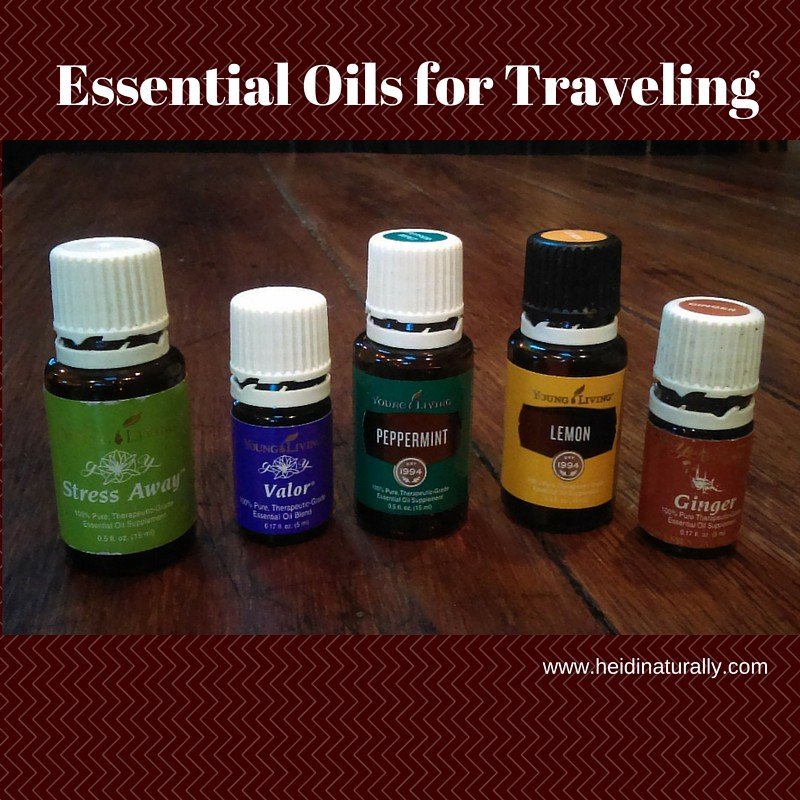 One last point…
It's very important to note that Young Living oils are the only oils recommended for use. Other oil brands can have chemical additives. They can also be diluted, be improperly distilled, and possibly cause adverse reactions to the skin or other body systems.