There are so many uses for Tea Tree essential oil! Keep reading and check out a bunch of fun and easy ways to use this amazing oil right away.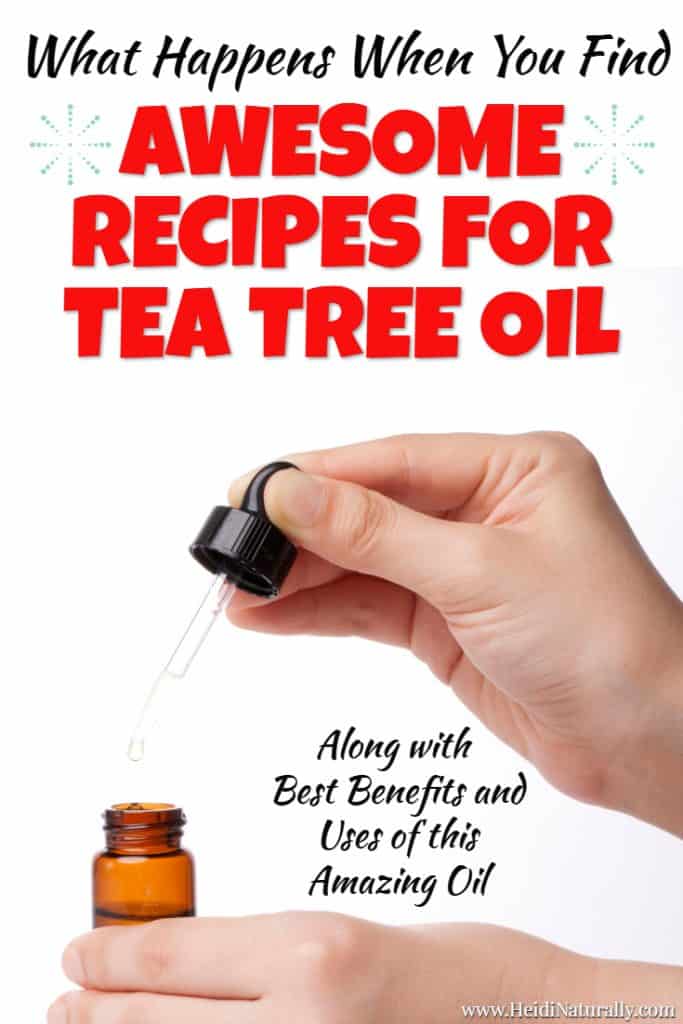 Tea tree essential oil, also known as Melaleuca oil, is an essential oil that is distilled from the leaves of the Melaleuca tree. There are 4 types of Melaleuca trees. Melaleuca Alternifolia is found in Australia and France. Melaleuca Cajuput, Melaleuca Ericifolia, and Melaleuca Qunquenervia are all grown in Australia.
This oil has a nutmeg smell to it and was first discovered in the 1700's by sailors. The native people of Australia have known about the amazing benefits of tea tree oil for thousands of years.
Tea Tree Essential Oil Benefits
Some benefits of tea tree oil include cleansing and support of the respiratory system and skin. Also, the immune, muscular and endocrine body systems also respond well to this oil.
It can be used in skin care, cleaning (everything from the toothbrush to toilet), pest control, stain removal and more. Furthermore, many natural cleaners, shampoos, conditioners, and lotions add tea tree essential oil to their recipes to give powerful, yet gentle results.
Ways to Use Tea Tree Oil in One Minute:
Apply to skin – Depending on the person, tea tree oil can be applied on location directly or combined with a carrier oil. Also, make sure you always use pure therapeutic grade essential oil and nothing else. Then just open the bottle and put a drop into your hand and apply to the area that needs support.
Diffuse – Take the lid off your essential oil diffuser and add 5-6 drops of tea tree oil per 150ml of water. Then turn it on and immediately start smelling the wonderful aroma of this oil. A diffuser allows everyone in the room to benefit from the health benefits of this oil.
Diffusing this oil also gives a fresh aroma and combats stale air in any area.
Best Tea Tree Oil Recipes:
Toes and Fingers – add a few drops of tea tree oil to cuticle cream or spray to maintain nail and cuticle health.
Multi-Purpose Cleaner – Add 4-8 drops of tea tree oil to a gallon of water and clean kitchen surfaces, floors, windows, bathroom fixtures. Some have reported that tea tree oil can help prevent soap buildup on shower doors. Therefore, I prefer using Thieves Household cleaner, which contains tea tree oil because it mixes better with water and cleans amazingly well along with the other oils in this blend.
Tooth Brush Cleaner – Apply a drop of this oil to toothbrush head after several brushings. Then this will help keep your brush cleaner and odor free.
Diaper pail odor – Add a few drops of tea tree oil to a spray bottle with water. Then spray this in diaper pail for a chemical-free and fresh smelling way to eliminate diaper pail odor.
Tea Tree Oil Shampoo
Make your own shampoo with this recipe:
Mix in a bottle with a pump or flip top
1/4 c liquid castile soap (unscented)
1/4 c purified or filtered water
2 T sweet almond oil
1 T vitamin E oil
10 drops tea tree essential oil
5 drops lavender essential oil
Shake shampoo at each use and pump or pour shampoo directly to wet head. Hair will suds better when the shampoo is applied directly to the head. Some have found that replacing the water with 1/4 c coconut milk can improve this recipe even more.
For me, the castile soap in this recipe makes my hair a bit straw-like, so I wash with this shampoo first to get my hair squeaky clean and then was again with a bit of organic shampoo to make my hair more manageable.
More Tea Tree Oil Uses
Tea tree oil ointment – Mix 1-ounce pure organic coconut oil with 10 drops Young Living Tea Tree oil. Then you can also add 1/2 ounce or less melted beeswax pellets to make the ointment thicker.
Linen Spritzer – Combine 4 oz water and 10 drops YL Tea Tree oil in a spray bottle. Then refresh sheets and towels that have been in storage or use daily on any other sheets and towels.
Moisturizer Enhancer – Add a drop or two of this oil to any moisturizer or hair mask to support the skin and increase the effectiveness of these products.
Where to Buy Tea Tree Oil
When using tea tree essential oil on the skin, by inhalation, or in an essential oil diffuser, it is important to purchase pure therapeutic grade essential oil. Therefore, the only oils I will put on my family or let them inhale are Young Living oils. You can purchase them at the retail cost or at the same price I buy them, wholesale with a membership account (see directions on the right side of this post).
For cleaning, most grocery store or health food store brands will be adequate. It's easier to just purchase Young Living oils and use them for everything than to try to buy oils from different sources. This way you know they are pure and healthy for your family without any chemical additives.
I have visited the Young Living farms and know how careful they are to make sure their oil is pure and of the highest quality. Since anything we put on our skin absorbs and reaches our bloodstream in 26 seconds, I want my family to be protected. That's why I choose Young Living oils and products.
Feel free to contact me if you have any questions or want essential oil information.
Schedule a free 20 minute health and wellness consult with me if you are a little confused about oils, don't know how to get started, or want to know the best way to get them.
Find out more about how to use essential oils and recipes here:
Peppermint oil uses and recipes