Young Living is the company that produces the oils I recommend on this blog. I wanted to let my readers know about the Essential Rewards program that is available. This is how I earn free oils every month to help my family.
What is the Essential Rewards Program?
It is a voluntary program that members can use to help them get what they need each month while earning credit for free products.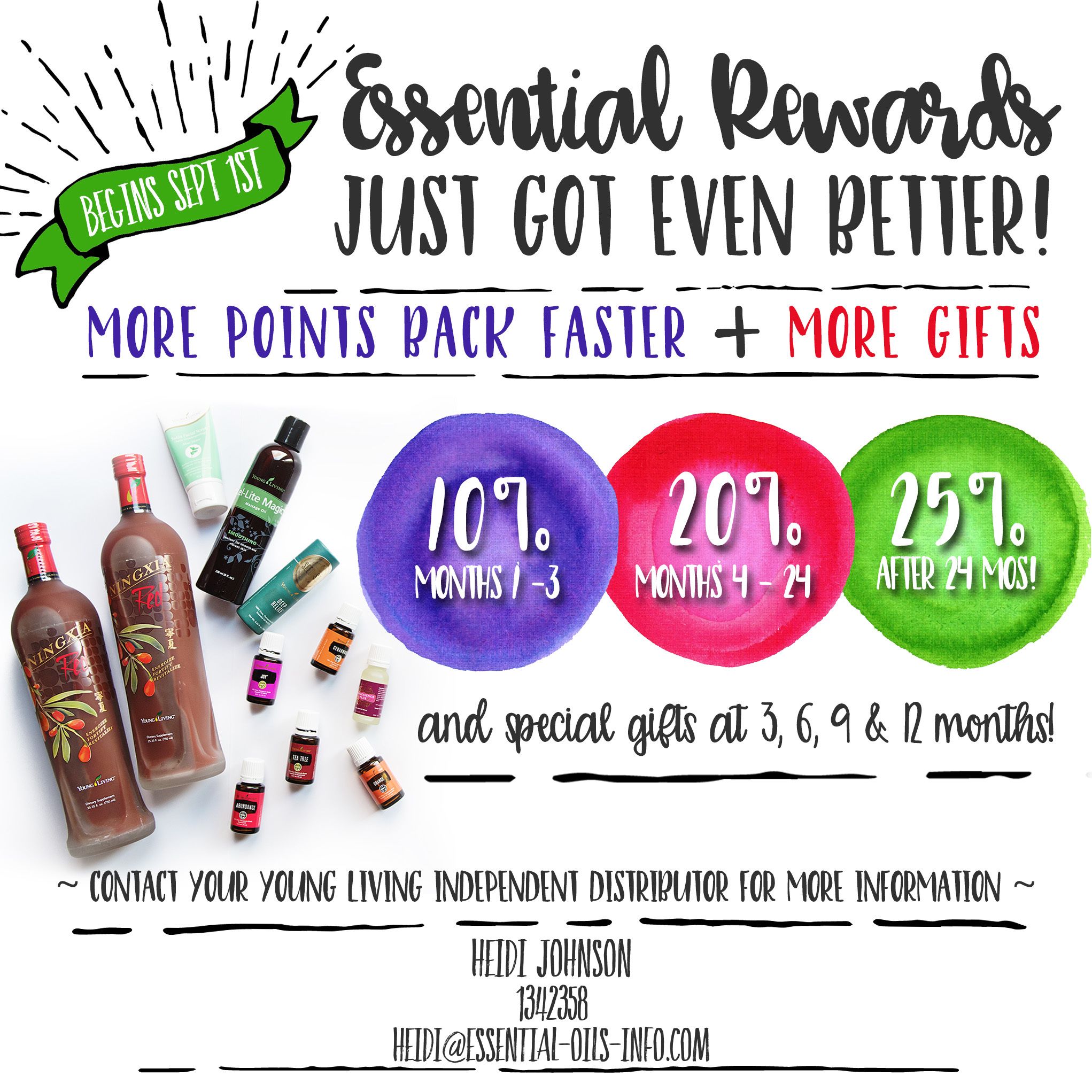 Here are the reasons why someone would want to enroll in the Essential Rewards Program:
Start accumulating oils that you need for your family. Put the things you use often on your essential rewards autoship like toothpaste, True Source vitamins, shampoo, conditioner, thieves cleaner, NingXia Red, and any oils that you use on a regular basis that you run out of. These products also help you get rid of the toxic personal care and cleaning products that might still be lurking around your house.
Earn Commission – In order to earn commissions with Young Living, you need to order 100PV each month (usually comes out to about $100). Being on the Essential Rewards autoship guarantees that you won't ever miss out on commissions because you forgot to order in a certain month.
It's Flexible – You can order as little as 50PV and you can change the products you want every month. There is no need to be stuck with products you don't want when you can easily go into your online account and customize your order each month.
Points Accumulate and Grow – Your first 6 months in Young Living, you earn 10% of your personal volume in points each month. The increments go up from there. Here is how you earn:
Months 1-3 earn 10% of your Personal Volume in points
Months 4-24 earn 20% of your Personal Volume in points
Months 25+ earn 25% of your Personal Volume in points
Redeem Your Points After Your 2nd Month – Once you have ordered two months in a row, you can start redeeming your points for anything that Young Living sells. All you have to pay is shipping!
Bonuses Apply – Some of the financial bonuses like the Rising Star Bonus only apply to those members who are on the essential rewards program.
Reduced Shipping – Members pay reduced shipping rates on their Essential Rewards autoship orders.
Whether you are thinking about getting a membership with Young Living or already have one, consider particip

ating in this great rewards program so that you too can get free products, pay less shipping, and get all the bonuses possible. It's easy and helps your family enjoy new products each month as well as get your old favorites for free at times.
Remember, you can also participate in the Free Product promotions each month  even whether you use the rewards program or not. So on Essential Rewards you are eligible for free oils in two different ways.
Start with a Young Living membership and then contact me so I can provide the team resources and support that will be available to you. Or just contact me directly and I'll help you get started with a membership and oil kit.