I heard Gary Young speak last month about how pure essential oils are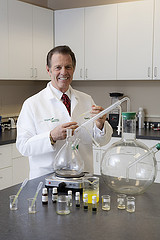 produced. He gave us detailed information and showed slides helping us understand how he uses proper cultivation, crop rotation, and other techniques to produce quality oils. Poor farming practices produce poor quality plants and then oils that are sold all over the world. There is NO regulation on essential oils in the entire world! Gary is working to change that.
How to Test for Pure Oils
Young Living uses instruments such as optical rotation and HPLC to help determine if there are any synthetic compounds in an oil. Even though Young Living has many farms in many continents, they cannot grow all the plants that they need for the oils they produce. Hence the need for stringent testing procedures to insure that their oils are pure.
There are only a few noses in the world that can tell a pure essential oil from an adulterated one and Gary has one of those trained noses.  Gary has also trained Dr. Herve Casabianca in France, Dr. Hans Bashier in Anadolu University in Eskisehir, Turkey, and Dr. Radwin Farag at Cairo University.
I didn't realize that nature identical oils can be manufactured in a laboratory, so it's very important that companies have very strict testing to make sure their oils are pure.
How are Oils Adulterated?
The most common ways to dilute or alter an essential oil is to add chemicals to it. Adding chemicals changes the dilution but doesn't affect the aroma, hence the reason most of us can't tell the difference between a pure oils and a diluted oil. Another way that other companies alter oil is to add cheaper oils that are similar such as adding lavindin to lavender oil.
Gary Young planted his first garden of lavender in Spokane, WA. He brought his seed straight from France in 1985. He brought more seed from France in 1991 & 1992 and planted it in St. Maries, Idaho. He also brought clary sage seed from France and it was grown in St. Maries, ID from 1993-96 but is now grown on the Young Living farm in Utah.
Gary Young knows that aromatic plants need good soil to produce good oils so he uses over 5 million tons of cow manure each year on his fields. He also uses red worms and worm houses to create liquid fertilizer and castings every day. This is applied to the fields on a rotation basis. Young Living works hard to replenish the soil they use.
Here are a few quotes I wrote down when I heard Gary Young speak:
"Oils are made from God's creation with man's management"
"God gave us dominion over pain – take charge!" – every bone in his body has been broken once or twice.
He uses these oils on his wife and sons, so he HAS to get it right.
I am continually impressed at how pure essential oils are produced and what great care Gary Young and the employees of Young Living take to make sure that we are getting pure oils. I recently looked at a bottle of "100% pure essential oil" from another company that produces essential oils. I was surprised to see that the although the label said 100% pure, it also said "not for internal use", "not for topical use." What good is an essential oil that you can't apply topically or use internally?!
My daughter has done some research and keeps telling me that any product only has to be 5% pure in order for the company to be allowed to put "pure" on their label. This is outrageous! This makes me even more impressed with the fact that Young Living oils go through stringent testing to make sure we are getting PURE essential oils. I wouldn't put any other brand on my family!