Since so many people love their pets, I thought it would be fun to give some information on using essential oils for dogs. I'll be sharing a bunch of recipes and recommendations. Enjoy!
We'll be explaining how to safely use oils on dogs, how to support the health of dogs, and recipes to help along the way.
Disclaimer: The information included in this post is for informational purposes only. We do not claim to be doctors or vets.
*This Content is not intended to be a substitute for professional medical advice, diagnosis, or treatment. Always seek the advice of your physician or other qualified health provider with any questions you may have regarding a medical condition.
Do your own research and start using essential oils carefully until you are comfortable with using essential oils on your animals and yourself.
Getting Started with Oils for D Dogs: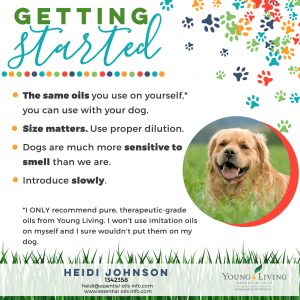 Here's how to diffuse, apply and use oils internally with dogs. When diffusing oils, both humans and animals can benefit since everyone is smelling them.
Here is a great graphic to use to know how to properly dilute essential oils with dogs. Also, check the recommendations for carrier oils to use too.
Most Popular Essential Oils to Use: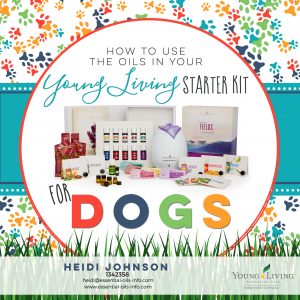 For those that have Young Living oils, we'll be sharing how to use the oils in the starter kit on dogs. For those that don't have Young Living oils, you can get started with the instructions on the right side of the page to get your oils at wholesale. Or you're welcome to contact me or schedule a free 20-minute wellness call with me (If you are not already affiliated with an essential oil company) so you can ask me any questions you like about oils.
Copaiba is first on the list. It is a great oil to apply to the stomach, joints and muscles. Look up beta-caryophyllene and see what properties copaiba has in common with other plants.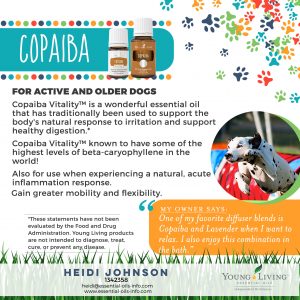 Emotions and Calming!
Use frankincense for emotions, skin, brain health, immune, and focus. This is such a versatile oil that everyone should be using.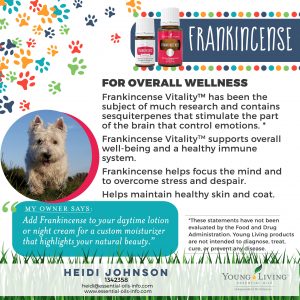 Lavender! What would we do without lavender at our house! This is such a versatile and calming oil. It's great for skin, emotions, calming, and so much more.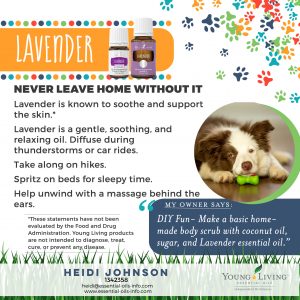 More Favorites for Dogs
Peppermint is one of my favorite oils because it is so powerful and useful for so many things. It is great on the stomach, for mental focus, and for cooling.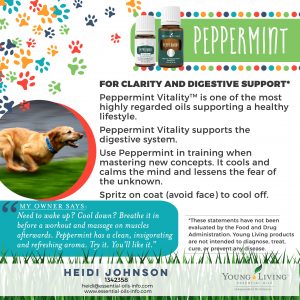 DiGize is a Young Living oil blend that is helpful to apply to the stomach. DiGize Vitality oil may be taken internally either in water or by capsule.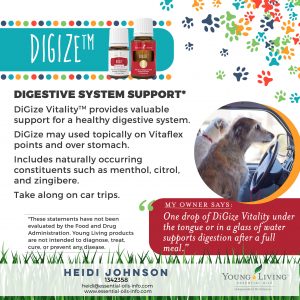 PanAway is another Young Living exclusive blend that many people and apply to their own and their animals joints and muscles.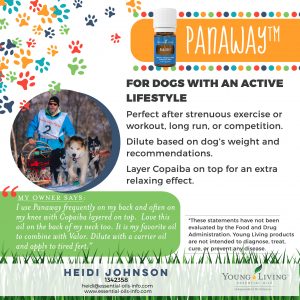 Freshen Up Smelly Areas
Purification is another Young Living exclusive blend that helps freshen up anything stinky or help you enjoy being outside.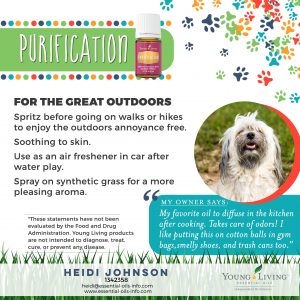 Stress Away blend – No one has time for stress so use this instead.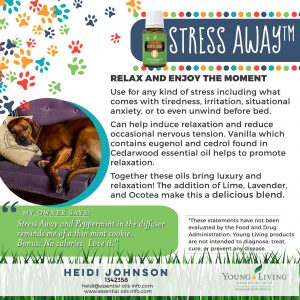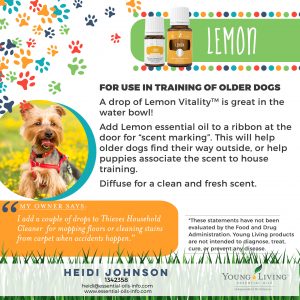 RC is a great blend to diffuse and breathe in and can be used when training or during exercise.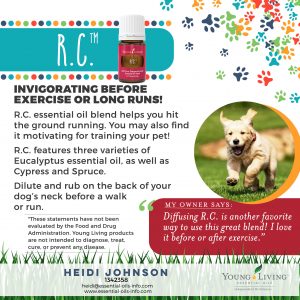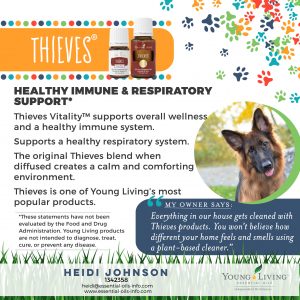 Oil Kits just for use with Animals:
Once you have gotten familiar with the oils in the Young Living kit, you can explore more oils specifically designed for pets called Animal Scents.
Don't have Young Living oils and want to give them a try or want to know more? Then you are welcome to contact me and schedule a free 20-minute wellness call with me (if you don't already have a Young Living essential oils account).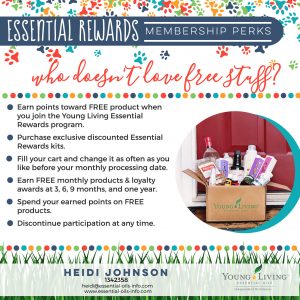 When you start using up your oils from the starter kit, why not get free oils and supplements too. Young Living has an essential rewards program for those that choose to order at least 50pv in products each month. Shipping is discounted and points accumulate so that you can order free products. Who doesn't love knowing that every order they place will net them up to 25% back in free products!
I hope you have enjoyed this information about using essential oils for dogs.
Get information on even more essential oils like these:
Simple and Powerful Ways to use Tea Tree Oil in One Minute
Essential Oils for Energy and Motivation that you're Probably not using yet