Tea tree oil, also known as Melaleuca oil, is an essential oil that is distilled from the leaves of the Melaleuca tree.  There are 4 types of Melaleuca trees. Melaleuca Alternifolia grows in Australia and France.  Melaleuca Cajuput, Melaleuca Ericifolia, and Melaleuca Qunquenervia grow in Australia.

First discovered by sailors in the 18th century, they made tea from the leaves because it had a nutmeg smell to it. Don't confuse this tree with the  leaf  taken from a plant that is used to make black and green tea. The native people of Australia have known the powerful benefits of tea tree oil for thousands of years.
Tea Tree Oil Benefits
Tea tree oil promotes cleansing and purity. The benefits of tea tree oil include good skin, happy muscles and an overall healthy life. Many natural cleaners, lotions, shampoos and conditioners add tea tree oil to give powerful yet gentle results. What is tea tree oil used for? Used tea tree oil for skin care, cleaning of everything from the toothbrush to toilet, stain removal, and more.
Tea Tree Oil Uses
When using tea tree oil, a 50:50 dilution of one part vegetable oil and one part tea tree oil can be used. Apply on location and inhale directly. It may also be dropped in an essential oil diffuser with water and diffused into the air.
Here are some recipes compiled to help know how and where to use tea tree oil:
Toes and Fingers – add a few drops of tea tree oil to cuticle cream or spray to maintain nail and cuticle health.
Mutli-Purpose Cleaner – Add 4-8 drops of tea tree oil to a gallon of water and clean kitchen surfaces, floors, windows, bathroom fixtures. Some have reported that tea tree oil can help prevent soap build up on shower doors.
Tooth Brush Cleaner – Apply a drop of tea tree oil to toothbrush head after several brushings. This will help keep your brush cleaner and odor free.
Diaper pail odor – Add a few drops of tea tree oil to a spray bottle with water. Spray this in diaper pail for a chemical-free and fresh smelling way to eliminate diaper pail odor.
Tea Tree Oil Shampoo
When using tea tree for hair, add it to any shampoo to help leave hair squeaky clean and remove product build up.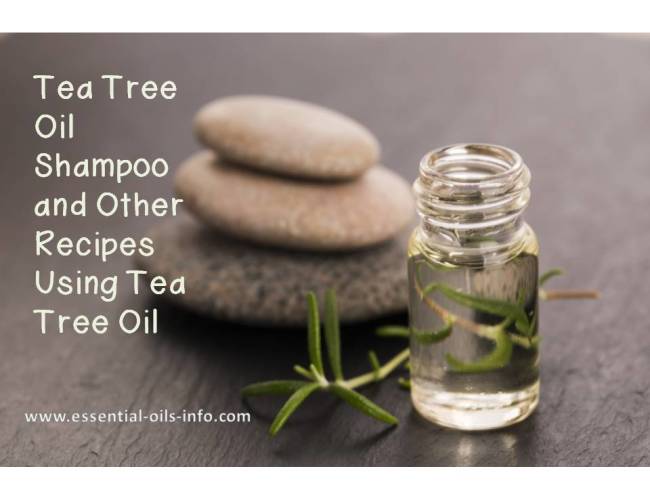 Make your own tea tree oil shampoo with this recipe:
Mix in a bottle with a pump or flip top
1/4 c liquid castile soap (unscented)
1/4 c purified or filtered water
2 T sweet almond oil
1 T vitamin E oil
10 drops tea tree essential oil
5 drops lavender essential oil
Shake shampoo at each use and pump or pour shampoo directly to wet head. Hair will suds better when you apply shampoo directly to the head.
Some have found that replacing the water with 1/4 c coconut milk can improve this recipe even more.
 Where to Buy Tea Tree Oil
When using tea tree oil on the skin, by inhalation, or in an essential oil diffuser it is important to purchase pure therapeutic grade essential oil. The only oils I will put on my family or let them inhale are Young Living oils. You can purchase them at the retail cost or at the same price I buy them, wholesale.
For cleaning, most grocery store or health food store brands will be adequate. It's easier to just purchase Young Living oils and use them for everything than to try to buy oils from different sources. This way you know they are pure and healthy for your family without any chemical additives.
Find out more about how to use essential oils and recipes here:
Peppermint oil uses and recipes