Whether you get the blues in a certain season or just struggle with them all the time, it stinks to not be totally happy. We are very blessed in America but sometimes it's hard to feel it.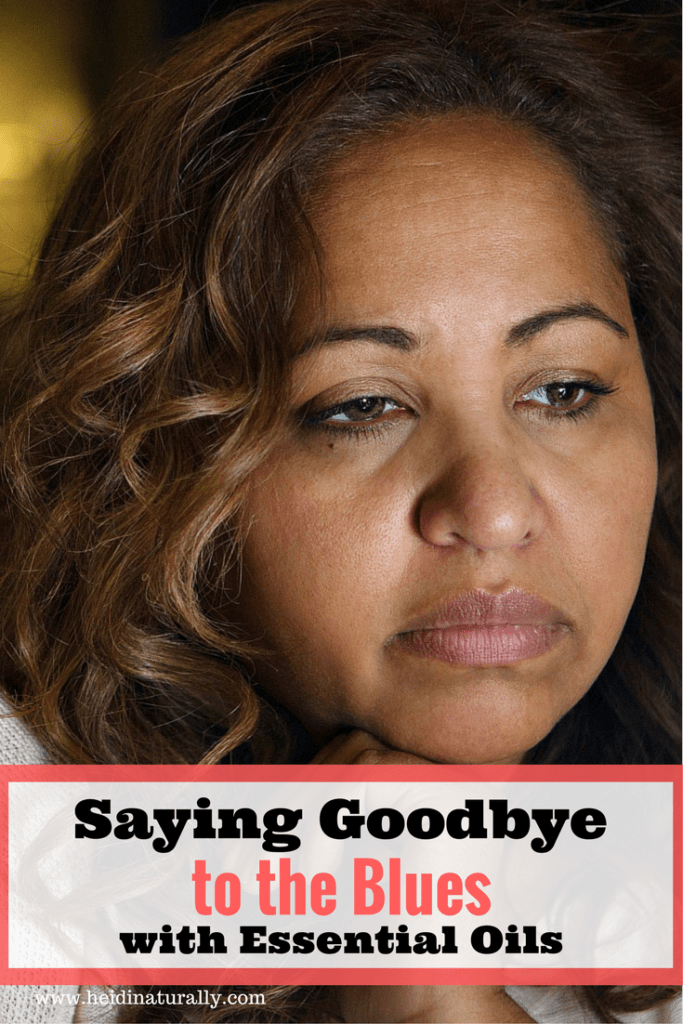 We have found essential oils to be very effective in helping with tons of issues that we have in our family so why not support our bodies with oils when the blues hit too? Since essential oils support every body system (cardivascular, muscular, skeletal, integumentary, nervous, lymphatic, respiratory, endocrine, digetstive, urinary, reproductive, senses, cells, tissues and organs), why not use them to support our emotions too?
Essential Oils for the Blues
Frankincense essential oil – This oil helps with grounding and purpose and supports the immune and emotional body systems. It can also help enhance focus and attention. It is very oxygenating and supports meditation and increased spiritual awareness. Those needing support of their nervous system and boosting their concentration will want to use this oil.
Orange essential oil – This is the #1 feel-good oil! Who can't think happy thoughts when smelling orange?
Lavender essential oil – When feeling stressed or nervous, apply 2 drops of lavender oil to hands and breathe in deeply for several minutes. It is very calming and relaxing.
Melissa essential oil – Very calming and uplifting and helps balance emotions. It can help lift emotional blocks and help bring about a more positive outlook on life.
Blends:
Valor – This blend contains spruce, rosewood, blue tansy and frankincense oils in a coconut oil carrier. It helps balance the body and provide courage, confidence and self-esteem.
Hope – This one is a blend of melissa (mentioned above), juniper, myrrh, and spruce in an almond oil carrier. Hope is important for being able to move forward in life. It can help increase strength and grounding.
Joy – Contains bergamot, ylang ylang, geranium, lemon, coriander, tangerine, jasmine, roman chamomile, palmarosa, and rose. Many women wear this as a perfume. Beware, if this doesn't smell good to you, it's because you need it. Keep applying to your feet until it smells good to you.
Any of these oils can be inhaled from the hands, put in a diffuser and inhaled, or applied anywhere on the body. If an oil doesn't smell good to you it can be applied to the feet.
It's best to get only Young Living essential oils since they are pure and therapeutic grade. You don't have to worry about solvents, additives or harmful chemicals. Plus, a little goes a long way. You will get much more bang for your buck using Young Living because you will use less and get better results.
To get Young Living oils, either use the link at the right and follow the steps there to be able to get the oils wholesale or contact me and I will walk you through the whole process either by email or over the phone.