Although I try to purchase organic products wherever I can, I have certain personal care products that I make myself consistently. I like making things with ingredients that are easy to keep around the house and easy to mix up.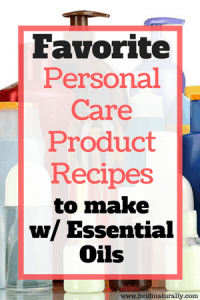 Personal Care Recipes
Deodorant –
Mix together:
3 T coconut oil (softened but not melted)
3 T baking soda
Three T arrowroot powder or cornstarch.
20 drops Young Living essential oils (I use lavender, Purification and lime but other combinations can be used too). Just use a combination of oils you like that add up to 20 drops total.
Do NOT use any other essential oils here. They could have chemical additives or solvents not required to be listed on the label that could be harmful to our skin.
Here's the Shampoo I Make:
Shampoo – Mix in pump bottle
1 c spring or filtered water
1 c Dr. Bronners castile soap (unscented baby scent only)
2 T coconut oil
30 drops total of Young Living essential oil – I use Purification, tea tree, lavender, cedarwood, orange and sometimes Joy. Use whatever oils you like. Just make the total number of oils equal around 30. Again, don't use any other brand for this recipe.
Warning – This shampoo will be very liquid which is why I put it in a pump dispenser. I pump this onto very wet hair. It lathers nicely and makes your hair feel clean.
I have shoulder length hair so my hair tends to be unmanageable with this recipe even with conditioner. The way I have remedied this is that I wash my hair once with my homemade shampoo and then use a bit of Young Living shampoo or an organic shampoo. I don't have to use much since my hair is clean. Then this makes my hair easier to work with and I condition as usual.
Foaming Hand Soap – In a foaming hand soap dispenser add
2-3 T Dr. Bronner's castile soap (unscented baby scent only)
5 drops Young Living Thieves oil
1/2 t glycerin or vitamin E oil (optional).
Fill container the rest of the way with spring or filtered water (up to the fill line on the container). You don't want to fill these above the fill line on the container because there is a certain amount of air needed in the container for the dispenser to work properly.
It is important to stay away from commercial soaps and shampoos because anything applied to our skin is absorbed into our bodies within 26 seconds.
Watch the Chemicals!
The average woman applies 300 chemicals to her body in a day and 80 of those chemicals are applied before breakfast!
When our bodies get chemically overloaded we may not get cancer but we will feel it in other ways including lethargy, inability to focus, sleep trouble, chronic inflammation, skin issues, stress, and fear.
It's SO important for you to get the chemicals out of the house since you are in control of what you allow within the walls of your house! Be the gatekeeper and realize that you alone are responsible for the chemicals that you allow into your home.
Getting a Young Living membership almost 5 years ago has helped us so much with getting rid of chemicals. I have never regretted that purchase and membership.
The personal care recipes shared here are the bulk of what I make myself, then the rest I purchase with our Young Living wholesale account. I earn free products with Young Living every month so this is a good cost savings for our family. Are you ready to get a wholesale account and take charge of your home?
Here are directions on getting a wholesale account and free oils or contact me if you have questions or need more details.
https://heidinaturally.com/2017/09/01/healthy-living-checklist-busy-people/