Best Ways to Use Essential Oils for Summer
Summer is a great time to use essential oils. There are lots of fun ways to us oils effectively. Check out these interesting and powerful ways to use essential oils that you may have never heard of before.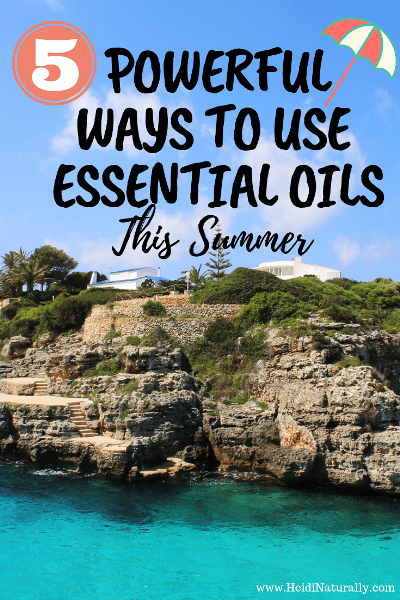 Essential oils can be used outdoors, as foot care, on vacation (both in the car and out), at home if you're not going on vacation, and in grilling recipes. I hope you enjoy all these great ideas of ways to use oils in the Summer.
Outdoors in Summer
First of all, although sun protection is talked about a lot, not very many sunscreens are beneficial for your skin. Since our skin absorbs what we put on it in 26 seconds, we need to make sure what we are putting on our families is safe but effective.
Mineral sunscreen with essential oils is the best sunscreen because it doesn't contain harmful chemicals that you or your child could absorb. There are plenty of DIY recipes out there but if you don't want to risk making it wrong, Young Living essential oils (the only brand we use) now has a mineral sunscreen available. You can get this at wholesale or retail, but wholesale is always better.
If you happen to forget to apply sunscreen or your DIY recipe didn't work as well as you wanted, you can also get After Sun Spray with a wholesale.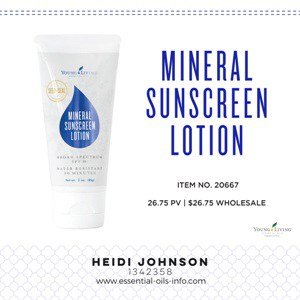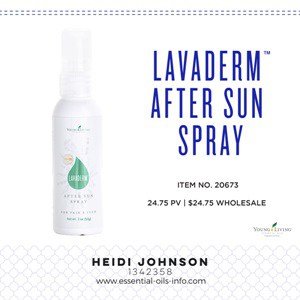 If you enjoy fishing or boating, these oils can help you get your sea legs (along with ginger). I apply peppermint and ginger before going out and then every hour and have great results.
After cleaning fish, use lemon essential oil from Young Living to help get rid of odors.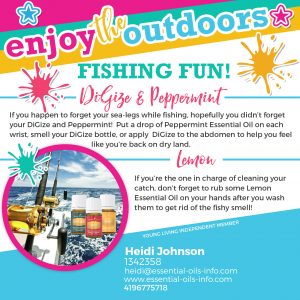 Do you get easily overheated in the Summer?
Stay cool with this peppermint recipe below. It's amazing how well this oil works!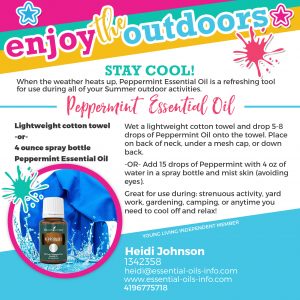 Pedicure
Since our feet are seen more in the Summer, it's important to make them look good. Here are some steps to take to make your feet ready to be seen.
Here's a fun way to make an essential oil foot soak that you can use any time of the year:
Get your feet in summer condition by making up this fun lavender mint sugar scrub. Another great way to use essential oils for summer!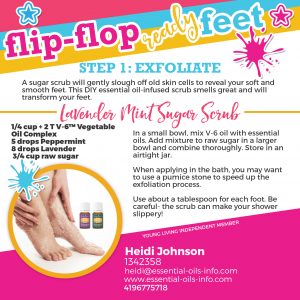 Exfoliating takes off the dead skin from our feet AND it feels great! When you use essential oils, this makes your feet feel even better.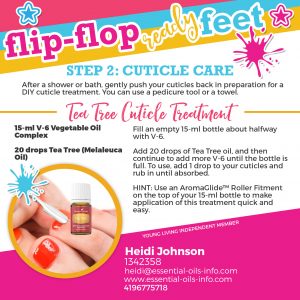 Treat your cuticles to this fun treatment and make those toes look really good!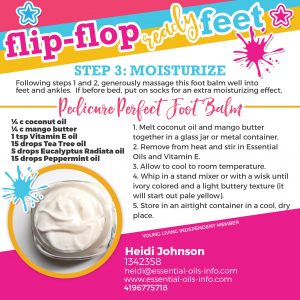 Don't forget the all-important moisturizing step! Or just use Young Living's Lavender Lotion and add a few drops to it to make an easy and customized foot lotion.
Use Essential Oils on Vacation
Always take your essential oils on vacation! Use a car diffuser or even just a wooden clothespin in your car vents and add this oil combination. You'll feel relaxed and everyone will be in a good mood!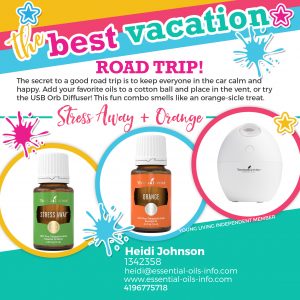 In addition, vacation pit stops can be creepy, but with the Thieves line of products you can know that your family is protected. These are non-toxic alternatives that are still very powerful. Use them everywhere you go!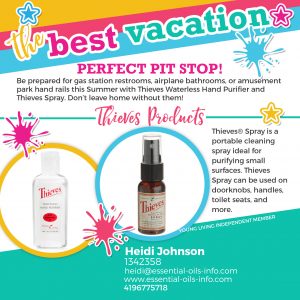 Can't go on vacation?
Have no fear, a diffuser with these oil combinations in them can help you feel like you are in a different place. Diffuse these at home or work to help you enjoy some time away even if you can't go anywhere. Essential oils for summer can be used whether you travel far away or stay in your own backyard.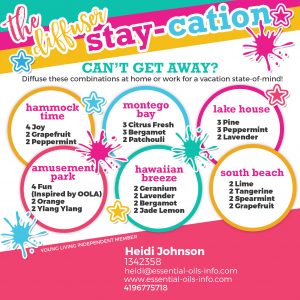 Related: Summer Activities to do Before it's Over
Cooking with Essential Oils in the Summer
Who doesn't love some great grill marinade recipes? Use essential oils in your marinades! Whether you like citrusy or Mediterranean, these marinades will definitely spice up your cooking when you use these Vitality essential oils for summer.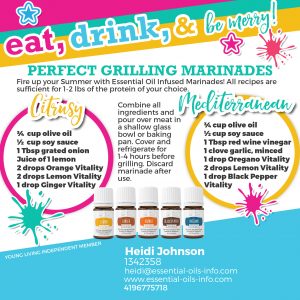 In addition, here's a fun drink recipe using lemon essential oil! Use the Vitality line of essential oils for summer when you want to ingest essential oils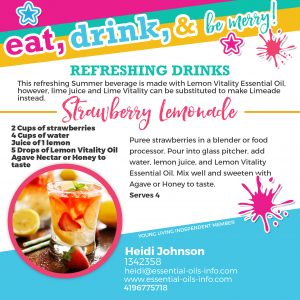 Therefore, whatever you do this Summer, or wherever life takes you, make sure you have your oils handy. Keep your family safe using natural and toxin-free products from Young Living and you can't go wrong.
The Next Step
Many of the oils listed in these recipes are included in Young Living's Premium Starter Kit. This kit includes a diffuser (which you will LOVE), 12 essential oils (lemon, lavender, peppermint, frankincense, Peace & Calming, Valor, Thieves, Citrus Fresh, Stress Away, Pan Away, Digize and Raven), 2 rollerball filaments for the top your oil bottles, samples, and great oily information.
This kit comes with a Young Living membership which allows you to purchase oils at the wholesale cost from now on. Plus you get me and my team to hold your hand and walk you through every step in your oily journey if you want. We have access to great reference materials and share a lot on our facebook page.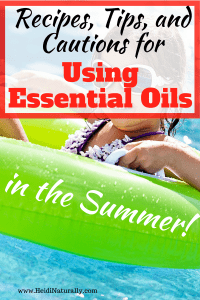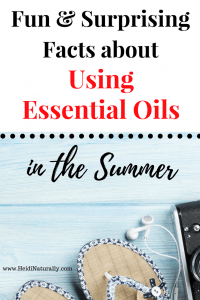 Best Ways to Use Essential Oils for Summer