How to Use Essential Oils for Summer Wellness
When thinking about using essential oils for summer wellness, several single and blend oils come to mind. Here is what our family has used in the last several years.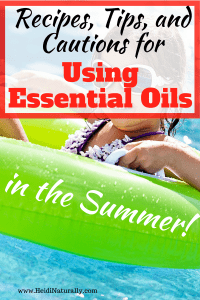 Essential Oils for Summer
Peppermint – supports muscles, digestion, respiratory system. This oil also helps cool down the skin when overheated.
Apply to overworked muscles, stomachs that aren't feeling quite right, and sinuses that don't seem to want to cooperate. This oil can be diffused for respiratory support and can also be mixed with a carrier oil like Young Living's V-6 vegetable oil blend, coconut oil, almond oil, jojoba oil or others. Check my other post on peppermint oil for more ideas and recipes.
Purification – helps with smells and skin issues. This oil can be diffused in a room that needs to smell better or can be applied to a cotton ball and put in a smelly car or closet.
It is also great to apply when you've been outdoors and your skin is feeling itchy. Ten drops or so of this blend can also be added to a 4 ounce spray bottle with water and a few drops of peppermint oil to keep bugs away when outdoors in the summer.
Lemon – supports digestion and liver health, helps with mental clarity and cleaning the skin. If you like fishing, just apply some lemon oil to your hands after cleaning fish.
Add Lemon Vitality oil from Young Living to your water each day to keep your body working well along with keeping you energized all day long. You can also apply lemon oil to your temples and/or back of neck to help you keep thinking clearly throughout the day.
Lavender – supports healthy skin and is calming. We apply lavender oil to any skin issues that might come up in the summer. It's also great to apply or diffuse at night when we need to relax and have a great nights sleep.
Young Living also makes Lavaderm spray, lavender lotion, lavender lip balm, lavender foaming hand soap which are all chemical free and beneficial for your skin and body. Check my other post on lavender oil for more ideas and recipes.
Thieves – supports the immune system. Diffuse to support the immune system of anyone in your house that is not feeling well. Apply to feet or spine for preventative care. Dilute with a carrier oil when applying to children or on an area of sensitive skin.
Young Living also makes Thieves Spray (for spraying on public areas like shopping carts and public restrooms), Thieves waterless hand purifier, and Thieves foaming hand soap. Check my Thieves oil post for even more ideas and recipes.
DiGize – supports the whole digestive system. We use this topically on any part of our digestive system that needs support at any time during the year.
Cautions Using Essential Oils in the Summer
The only thing you will need to watch when using essential oils in summer is the photo sensitive oils. These include all the citrus oils like lemon, orange, Citrus Fresh, bergamot, lime, and others.
Just be sure to not apply these oils to exposed skin 30 minutes before planning on being out in the sun. That's all that you have to watch for. Enjoy your oils!
Sunscreen with Essential Oils
Sun Protection – There are also lots of recipes you can make for summer sun protection too. I use carrot seed oil,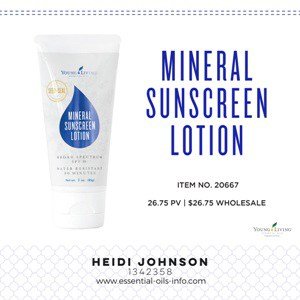 lavender oil, and myrrh oil along with zinc oxide and coconut oil.
For a safe and effective sunscreen that is already made up for you, I recommend Young Living's Mineral Sunscreen Lotion. It is safe for all ages and works well.
It has an SPF of 50, chemical-free, and is fast-absorbing.
Reef Safe
Dermatologist tested
Recommended as an effective broad-spectrum sunscreen
Non-greasy
Made with non-nano zinc oxide
If you or a family member happens to get a little too much sun exposure, you can use Young Living's After Sun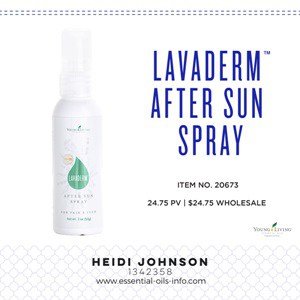 Spray. It temporarily relieves the pain and itching associated with minor burns, sunburn, minor cuts, scrapes, insect bites, and minor skin irritations.
The peppermint oil in this spray helps to cool the skin and provides immediate relief. It also has a moisturizer in it to help prevent peeling to promote healthy-looking skin.
This spray is made with plant-based ingredients and contains no chemicals like alcohol, parabens, phthalates and all the other junk we don't want to be spraying on our family.
Keep the Bugs Away
You can also get insect repellent that is easy to use, is safe for your family, and works well. It's tested to repel mosquitos, ticks, and fleas and uses all plant-based ingredients.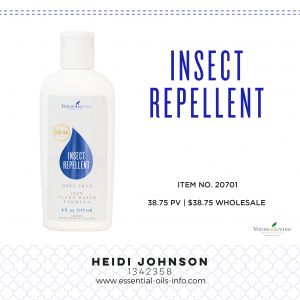 You get a non-greasy sesame oil base with natural ingredients that work well, along with vitamin E oil for even better health benefit.
Or if you like to make your own, you can take a 2 or 4 ounce spray bottle with water and add a few drops each of peppermint and Purification essential oils from Young Living.
Most of these oils can be found in the Young Living starter kit that comes with a free diffuser and lots of support material on how to use essential oils.
Feel free to contact me if you would like to know more about getting started with essential oils. Or if you like doing things on your own, follow the directions on the right side of the page under the oil kit picture to get your essential oil kit along with all my support groups, reference materials, and recipes.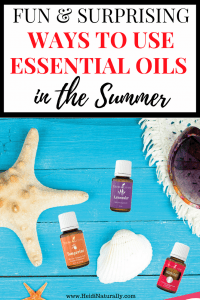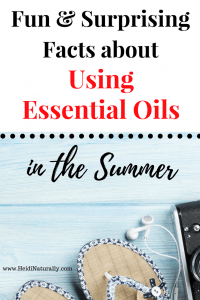 How to Use Essential Oils for Summer Wellness