Cooking with herbs and spices is great, but cooking with essential oils is not only very tasty but can save you time and money too. I've been cooking with essential oils for a while now so I thought I would post some tips and tricks for which oils are used for which dishes. Essential oils from Young Living are very potent so a drop or less is all you need in most cases. Check below for exact amounts to use.
Click here to get your very own Essential Oil Fact Sheet
How to Implement Cooking with Essential Oils: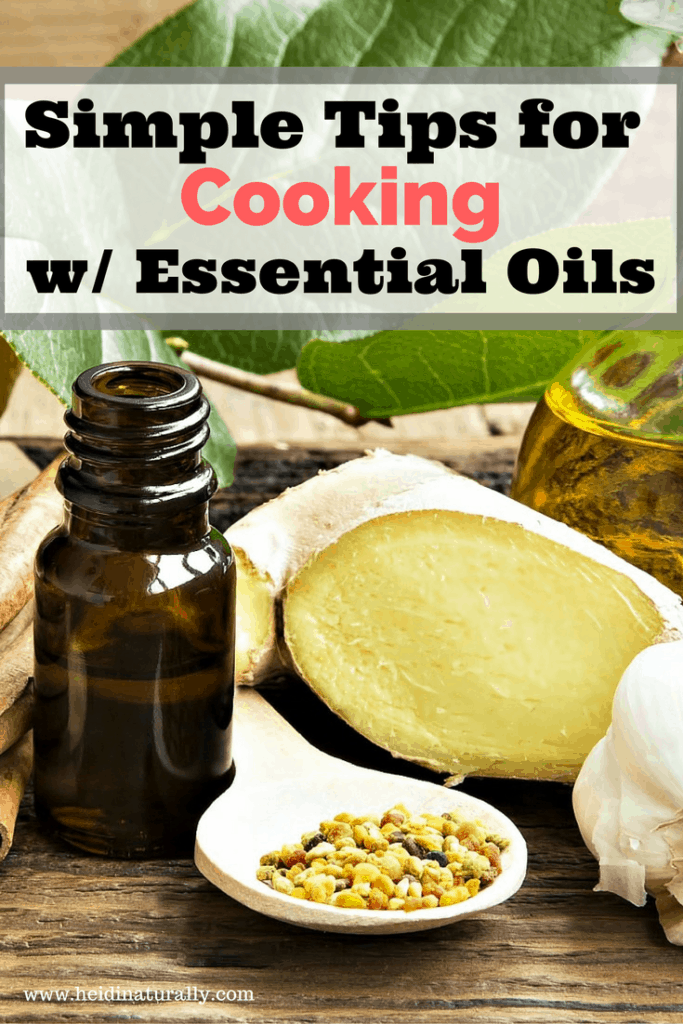 I only recommend using Young Living Vitality oils for ingesting. Other oils can say "pure" but can easily have additives and chemicals in them that you don't want to take the risk and feed your family.
The essential oils in the Vitality oil bottles are the same as in the other Young Living bottles, but these are labeled for ingestion. A guideline for using essential oils in recipes is this – when a recipe calls for 1 teaspoon of an herb, you can usually use 1 drop of YL essential oil instead.
The "hot" oils like cinnamon, oregano, basil and peppermint should be collected on a toothpick instead. You do this by taking a toothpick and swirling it inside the essential oil cap until you have picked up a bit of the essential oil. That's all the seasoning you need for these potent oils.
Think of the cost savings! Also, essential oils don't expire so you don't have to wonder how long a spice has been sitting on your self or whether it's still "good."
When possible, add essential oils at the end of the cooking time.
Here are some Vitality oils I suggest to use when cooking with essential oils:
Basil – pasta, salads, soups, lemonade, breads
Lemongrass – tea, Asian recipes, chicken
Oregano – use sparingly (use a toothpick swirl to start with) – Mexican/Mediteranean dishes, gluten free pizza, sauces
Rosemary – tomato sauce, marinades, breads, pasta. Bread dip recipe – mix olive oil, balsamic vinagrette, and rosemary.
Peppermint – in drinks (water, hot chocolate, protein shake), baked goods
Spearmint – marinades, salad
Black Pepper – marinades, roasted vegetables, dressings, guacamole, pasta, rice, potatoes, mexican dishes
Thyme – marinades, dips, pasta, poultry, vegetables
Lavender – with jams and jellies, lemonade, sorbet, shortbread, pound cake, cookies, ice cream, meringue, whipped cream, savory dishes.
These oils are the same oils as the regular Young Living line, they are just marked for ingestion. It's confusing but that's the way they have to be labeled so we can use them in an FDA-compliant manner.
** Remember to add essential oils at the end of the cooking time whenever possible. Essential oils are not as potent when heated.
Adding Essential Oils to Salt
Another way to use essential oils in cooking is to put 1/2-1 teaspoons of salt into your hand. Then add a drop of YL essential oil to that pile of salt. Mix it up a bit in your hand and then add it to your favorite dish! This is SO easy and flavors your dish evenly. Here's a video that shows you exactly how to do this:
Another fun thing to make when cooking with essential oils is infused oil.
Here's how to make essential oil-infused mixes:
Pour 1/4 c olive oil into a container. You can use other carrier oils here too like avocado oil, walnut oil, and more.
Add 2-6 drops of one of the above essential oils.
Swirl it around and let it sit for a few minutes.
Now you have your own bottle of infused oil! You can use this as a salad dressing, bread-dipping recipe, marinade, seasoning for vegetables, or any other cooking modality you choose.
This can be added to vegetables after they are heated and you take them off the stove. It can be added to salad dressings and used as a bread dip too. You will love the flavor this adds to your food!
Learn more about essential oils with this handy Essential Oil Fact Sheet
I hope this post about cooking with essential oils has been helpful to you.
Further Reading:
Fall Recipes for Cooking with Essential Oils
Winter Recipes for Cooking with Essential Oils