How to Find the Best Essential Oil Accessories for Your Family
As a natural mom who uses essential oils, I find it's important to use essential oil accessories to help us use our oils more effectively and easily.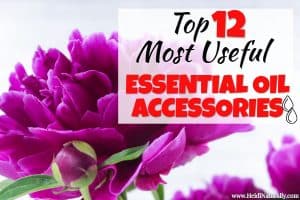 When you first start using oils, it can seem overwhelming and you feel like you are all thumbs. That's why some good simple resources can really help shorten the learning curve on getting started with oils.
First Accessories – Reference Books and Guides
Having good books and guides on hand makes life so much easier. When something comes up, your first reaction should be to look it up and see what oils or recipes can be used.
Reference books help give direction on how to use oils safely and effectively. The older versions of these books, although more expensive, contain more helpful information that is not allowed to be published anymore.
Some of my favorite reference books include:
Essential Oils Desk Reference – This comes in several editions. Although the 6th version has the
most up-to-date Young Living products, the older versions have some recipes that are no longer published.
You just need to choose what is most important to you and choose from there.
Another advantage to having this big reference book is that it has an index in the back where you can search for quick reference.
Essential Oils Pocket Reference – If you don't like having a big book laying around or don't want to carry it around in your book bag, then this handy little pocket reference is just what you need.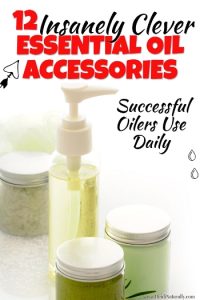 The first half of the book lists each single and blend essential oil that Young Living makes. It lists the properties and uses for each oil and blend.
Then the second half of the book is ailments listed in alphabetical order along with which oils are best to use.
Some other good essential oil reference books include Gentle Babies book, Healing Oils of the Bible, Chemistry of Essential Oils Made Simple.
The only disadvantage to the pocket reference over the full desk reference (besides some extra information) is that there is no index in the pocket reference. Although the ailments are listed in alphabetical order sometimes it takes me a while to get to exactly what I am looking for.
So make sure you add some of these books to your list of most needed essential oil accessories!
Essential Oil Carrying Cases
If you travel or just like to have a lot of your oils with you, these carrying cases are so helpful to
keep your oils safe and organized. Whether you are carrying just a few oils in your purse or carrying 16, 30 or more bottles, these carriers work really well.
Be sure to close your lids well. It's wonderful to have essential oils on hand when you are away from home. You might have a friend that mentions something going on and you have the oils handy to share with them. Or one of your family members might be with you and needs an oil. It's great when one of your kids comes to you asking for a specific oil because they know that is the one they need.
As moms, it's important to us to help our children. And what better way to help our children than to quickly ease any issues that come up for them. These essential oil accessories are great to use at home or away from home.
Making Your Own Products – Essential Oil Accessories to Use
One of the first products I made when I first started using oils was foaming hand soap. Even though I could purchase it from the company where I bought my oils, I found that using my own container, oil, and products was much cheaper.
Hand Soap
Some people don't want to mess with making their own foaming hand soap, but I find that it is very
quick and easy and is worth the cost savings. I posted my favorite foaming hand soap recipe here if you would like to try it. I used Dr. Bronner's Baby Unscented Liquid for my recipe along with Young Living Thieves oil.
Deodorant
The next product I made was deodorant (recipe here). We still used this recipe to this day and are still very happy with it.
In the winter, you can use the deodorant sticks if you want, but in the summer, the coconut oil will not be as
solid and will actually turn liquid because of its melting point. This is why I prefer to put my deodorant in a container with a screw on lid rather than a standard deodorant container. Then I just scoop out what I need and apply.
Lotion and deodorant containers are a must. Believe it or not, deodorant used to be scooped out by hand and applied by hand. Just in the last 30 years have we had roll-ons and sticks to apply our deodorant.
The lids with screw-on tops are best. They come in many different sizes for all your oil needs.
Carrier Oils to Mix with Your Essential Oils
Organic Coconut Oil – This is used in many recipes that DIY oily people use. It's good to get organic coconut oil since it will be absorbed into your skin and the skin of your family members.
Some other carrier oils mentioned in Jen O'Sullivan's book French Aromatherapy include:
Avocado oil – This is a thick oil that can be combined with another carrier oil for very dry and flaky

skin.
Grapeseed oil – Great for the skin and can be used in any roller ball recipe or for face serums.
This is my oil of choice for anything related to the face.
Hempseed oil – This one is highly absorbably and is great for aging skin and for hair serums.
Jojoba oil – Good for babies and those with sensitive skin and is great in scalp treatment serums.
Macadamia oil – This is another carrier oil good for aging skin and for use in skin serum recipes.
Raspberry Seed Oil – This is a thinner oil good for sensitive skin. It also contains some UV protectant and has an SPF of 28-50. So if you make your own mineral sunscreens, be sure to include this carrier oil.
Rosehip Seed Oil – This is very nourishing and great in face serums and for mature skin.
Sweet Almond Oil – This is good for skin tone and color and has lots of trace minerals and vitamins in it.
When you want your lotion to be thicker, you'll want to use one of these two butters. Be sure to get pure, unrefined, raw, organic, and non-GMO when choosing yours.
Cocoa Butter – This one melts at body temperature and is easily absorbed into the skin.
Shea Butter – This one helps protect your skin and has anti-inflammatory and anti-microbial properties.
When making creams and lotions, I find that using cocoa butter or shea butter with oils makes a nice consistency. If you want something more solid, then I suggest adding beeswax pellets to the mix. Beeswax will take longer to melt but will make the mixture more firm.
Containers!
Once you start reading about and using oils, you might find that you want some containers to hold your
concoctions and recipes.
Glass jars work well and protect you from absorbing the petrochemicals in plastic containers. It's easy to make beauty products like creams and lotions and these jars make it easy to store those products conveniently.
Labels for Essential Oil Products
When making anything with essential oils, it's important to label everything. I have often thought
that I would remember what I made only to find out later that what I made had slipped my mind. These fun labels make it easy to label everything so you know what you have.
These are an important part of your essential oil accessories list.
Lip Balm Containers
Another fun thing to make with essential oils is lip balm. Even though Young Living carries lip balm
for purchase, making your own gives you more options and is usually cheaper. You can pour the lip balm you make into jars or containers. Here are a few examples.
Glass or plastic spray bottles are great to have on hand for making room sprays, natural cleaners, and beauty products. Since the oils are usually diluted in these applications, glass is not vital but preferred. Since essential oils perform better when stored in dark bottles, getting amber-colored spray bottles or blue spray bottles are the best choices.
More Accessories – Glass Roller Ball Bottles

Even though Young Living comes in glass bottles and provides a roller ball, sometimes it is good to have some more roller ball bottles on hand.
These can also be used for gifts and making up special blends of oils for those in your home. Some prefer to get metal balls and others feel that acrylic or plastic balls are fine.
Young Living also has just the roller filament with the lid available in packs of 10, so if you have a Epsom salt with them, those are great to use with empty bottles or blends.
Bath Supplies to Use with Essential Oils
If you like taking baths, then you'll want to add these items to your essential oil accessories list. Epsom salt, baking soda, and hydrogen peroxide have been used for years for detox baths. If you don't need a detox, then epsom salt mixed with your essential oils is a great way to get a relaxing bath.
Diffuser Necklaces and Bracelets
When you can't carry your diffuser around with you all day, a diffuser necklace or bracelet is your
answer. They make pretty necklaces for women. But they also make fun bracelets, necklaces and other essential oil accessories that they can attach to themselves or their bags.
Some schools and offices are tolerant of essential oils and some are not. For those that are not friendly to essential oils, you can find ways to be discrete and still get to smell the oils you need.
More and more people are understanding the harmful effects of laundry detergent, fabric softeners, and dryer sheets. But we still want our clothes to smell good! That's where dryer balls come in handy. They are a great essential oil accessory because all you have to do is add a little essential oil to the balls every few loads and your clothes smell great.
Plus they help your clothes dry faster helping you save money on drying your clothes!
These big wall racks are great to add to your essential oil accessories. The oils are in plain sight so everyone in the house knows where they are and that you want them to use them.
If you store them by color or in a certain pattern, it makes it even more pretty. So if you need some wall art or just want to be able to store your oils where you can see them, this accessory is an important one to get.
Store those Oils!
As you get a larger selection of essential oils and blends, you will want to have an area or areas in your home designated for oil storage.
Here are some great oil storage accessories that make finding and storing your oils easy. Many times using a nail polish storage rack works well for storing and displaying essential oils too. Storing oils inside a cupboard door or in a drawer organizer works well too.
I hope this gave you a good idea of what accessories you might want to get to help improve your essential oil knowledge and help you use your oils more easily and effectively.
If you've never used essential oils before, I encourage you to get these oils from Young Living with a wholesale account. This is the best value and gives you the ability to earn free oils and have an oil diffuser to use for your whole family.
Get Help Using the Best Essential Oils for Your Family
If you want to get these oils in your home and take advantage of all of the resources I provide for those in our group, follow the instructions on the right side of this page or here and use www.getpureoils.com to complete your registration. I provide lots of resources, information, and hand-holding for those that need it once you get your oils through this link.
Read this if you're thinking Does it Really Matter where I Buy Essential Oils? Contact me if you have any questions at all about getting essential oils.
Related Articles You Will Want to Read:
Best Ways to Use Grapefruit Oil – Essential Oil Facts and Tips
Simple and Powerful Ways to Use Tea Tree Essential Oil in One Minute
The Top Essential Oils that People Use:
Lavender Oil and How to Use it – Recipes and Tips
Thieves Oil and How to Use it – Recipes and Tips
Peppermint Oil and How to Use it – Recipes and Tips
How to Build the Best Aromatherapy Collection