Some people have asked me "Can you ingest essential oils?" Although most essential oils that are sold in the stores state on the bottle, "Do not ingest," Young Living therapeutic essential oils ARE pure.
Why can you ingest pure therapeutic grade oils?
Young Living oils are therapeutic grade A oils and are produced so that they can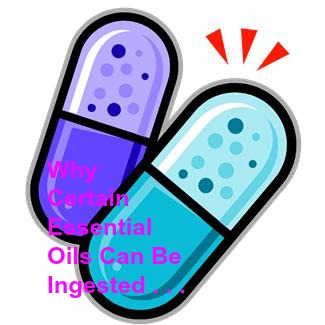 be ingested. Although applying oils to the skin and inhaling them can be beneficial, sometimes ingesting the oils is even more effective. Almost every bottle of Young Living oil says that it can be taken internally or applied.
People can put a drop or two of essential oils into milk to drink or drop into empty gel capsules and swallow. Empty gel capsules can be purchased from Young Living; 250 capsules for $9.87 retail.
According to the Essential Oils Desk Reference (3rd edition) there are 2 basic dosages for capsules. There is a "00" size which would contain a 400mg dose when filled with a 50-50 dilution. There is also a "0" size capsule which contains a 200 mg does when filled with a 50-50 dilution of oil. If "0" capsules are not available, someone could fill a "00" capsule 1/2 full.
Other ways to ingest essential oils . . .
Other ways to take oils internally include adding it to rice milk or goats milk. Someone can also add essential oils to Blue Agave nectar or Grade B maple syrup.
Many times when someone is applying essential oils to the skin or inhaling them and they are not seeing results, ingesting oils can give them the boost that they need. Oils can help with minor sore throat, boost the immune system, promote oral health, and even help bad breath. Use your reference books and use those oils on your family!
Let me know if you have any questions about how to use essential oils by either leaving a comment or filling out the contact form on this blog.